Surveillance Camera Players (New York City, USA)
2. Dezember 2006 » 19:30 Uhr (MEZ)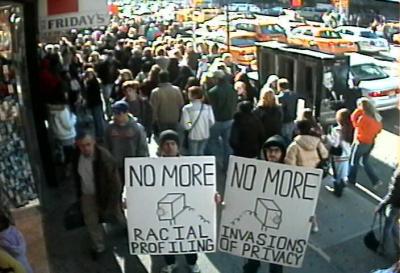 Mehr
Doku-Bilder der Webperformance.
Bericht der SCP über die Webpeformance bei
Indymedia NYC
/
SCP-Webseite.
Zur Webcam am Times Square:
http://www.earthcam.com/usa/newyork/timessquare/index.php?cam=fridays
Mehr zu
The Space Hijackers making trouble in Leipzig.

SCP statement for 2 Dec 2006 // Who are we? Why we here?

We are the Surveillance Camera Players, and we are here today, performing in front of this publicly installed webcam, to say ENOUGH IS ENOUGH. We have had enough of surveillance cameras!

1) They do not keep us safe from either crime or terrorism;
2) they create and reinforce a climate of distrust, fear and paranoia; and
3) they are all-too-frequently used for reprehensible activities, such as racial profiling, sexual voyeurism, the repression of political dissidents, and the marginalization of dispossessed social groups.

We are not alone in our opposition. At this very moment, anti-surveillance activists from England ("The Space Hijackers") and Germany ("Leipziger Kamera") are meeting at the Museum of Contemporary Art in Leipzig to discuss the problem and ways of solving it.

Why Leipzig? Because this city – well-known for its resistance to all forms of oppression – was one of the very first in Germany to have video surveillance imposed upon it. Ten years after the installation of their first cameras, the residents of Leipzig have had enough. What are their demands? The rights of everyone to enjoy the city; social solutions to urban problems; the encouragement of different ways of life; and an end to the police surveillance of public places.

And what about England? It is the most heavily surveilled country in the world, with approximately one camera for every 15 people. And yet England has a well-documented and persistent street-crime problem. But the answer is not more surveillance cameras and everyone over there knows it.

But what about here in the USA? All we hear from our political leaders, the highest ranking police officers and the CEOs of the biggest military-industrial corporations is a steady call for more and "better" cameras. But these people do not have our best interests in mind. All they want to do is line their pockets and keep us afraid.

Join us! Fight back! Your actions will speak louder than words!
Times Square, NYC 2 December 2006
Statement der Surveillance Camera Players zum 2. Dezember 2006 / Wer sind wir? Warum sind wir hier?

Wir sind die Surveillance Camera Players und wir sind heute hier und spielen vor einer im öffentlichen Raum installierten Webcam, um zu sagen: GENUG IST GENUG! Wir haben Videoüberwachungskameras satt!
1) Sie schützen uns weder vor Straftaten noch vor Terrorismus;
2) Sie schaffen und verstärken ein Klima des Misstrauens, der Angst und der Paranoia; und
3) Sie werden all zu oft für repressive Maßnahmen genutzt, wie rassistische Vorverurteilungen, sexuellen Voyeurismus, die Unterdrückung von politisch Andersdenkenden und die Marginalisierung von ausgestoßenen sozialen Gruppen.
Wir sind nicht allein mit unserem Widerspruch. In diesem Moment treffen sich Überwachungsgegner aus Großbritannien ("The Space Hijackers") und der BRD ("Leipziger Kamera") in der Galerie für zeitgenössische Kunst in Leipzig, um über das Problem und mögliche Gegenstrategien zu diskutieren.
Warum Leipzig? Weil diese Stadt – bekannt für ihren Widerstand gegen alle Arten von Unterdrückung – eine der ersten in der BRD war, der Videoüberwachung auferlegt wurde. Zehn Jahre nach der Installierung der ersten Kamera, haben die Bewohner von Leipzig genug davon. Was sind ihre Forderungen? Das Recht aller auf den Gebrauch von Stadt, soziale Lösungen für urbane Probleme, das Recht auf abweichende Lebensentwürfe und ein Ende der Überwachung öffentlicher Plätze durch die Polizei.
Was ist mit Großbritannien? Es ist das am stärksten überwachte Land der Welt, in dem eine Kamera auf 15 Einwohner kommt. Und dennoch hat Großbritannien ein gut dokumentiertes und hartnäckiges Problem mit Straßenkriminalität. Doch die Antwort heißt nicht noch mehr Überwachungskameras und alle dort wissen es.
Und wie ist es hier in den USA? Alles, was wir von unseren Politikern, den obersten Polizeioffizieren und den Geschäftsführern der größten Militärindustrie-Unternehmen hören, ist ein steter Ruf nach mehr und "besseren" Kameras. Doch diese Leute sorgen sich dabei nicht um unsere Belange. Sie wollen sich ihre eignen Taschen füllen und uns in der Angst gefangen halten.
Macht mit! Engagiert euch dagegen! Eure Taten sind mächtiger als Worte!
Times Square, NYC, 2. Dezember 2006
The Space Hijackers
www.spacehijackers.co.uk
Leipziger Kamera
www.leipzigerkamera.twoday.net
The Surveillance Camera Players
www.notbored.org/the-scp.html
Phil Ister - 1. Dezember, 09:20
- 0 Trackbacks